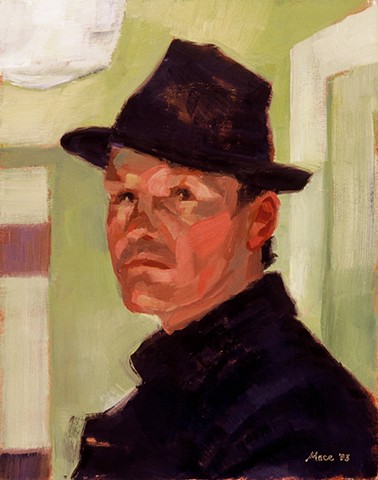 I AM THE ONE WHO PAINTS. I go out into the landscape or hit the streets. Sometimes I use drawings or the occasional photo, but I prefer the live model or plein air. I like to paint cityscapes, portraits, or jazz musicians with the subject right in front of me. I've set up my french easel from the sidewalks of Portland, Oregon, to Berlin, Germany. I've painted in Thailand and Spain, painted street scenes, and painted in jazz clubs in bad light with the musicians bending and shuffling and changing places on stage. Because every situation is different, the style I paint in might be different. My jazz paintings emerged into a style very distinct from the way I paint a cityscape or a portrait. I don't plan it that way, it just happens. I don't like to say what kind of painter I am, because however the painting turns out is the way I painted that day.
Gage Mace is an artist and writer. He teaches painting classes at the Multnomah Arts Center and the Oregon Society of Artists in Portland, Oregon. He is currently completing his novel, 'Celilo,' a story of the Pacific Northwest.
Please left click once on portfolio thumbnails to see larger image. click again for it to fill the screen.